HL-1408PL Eight Needle Flat Bed Double Chinastitch Sewing Machine For Attaching Line Tapes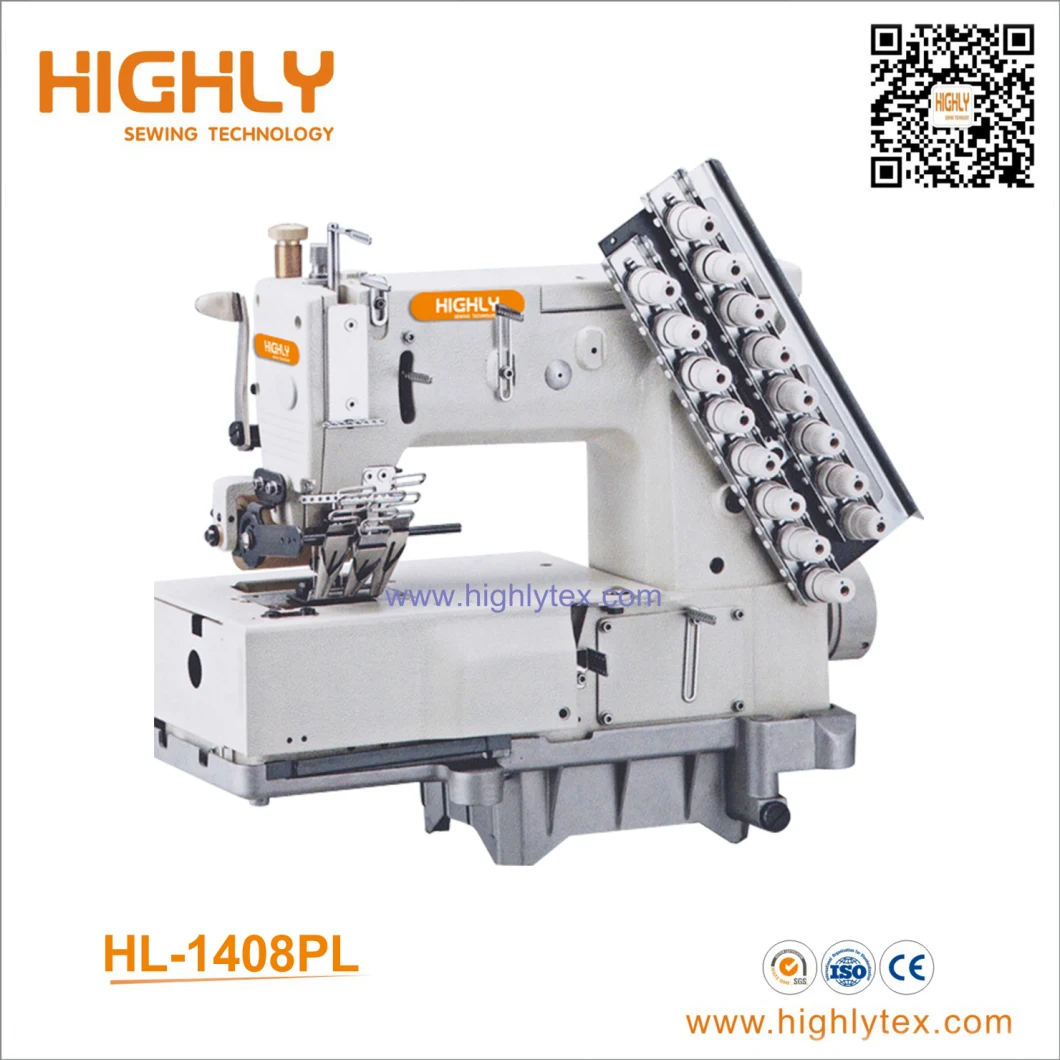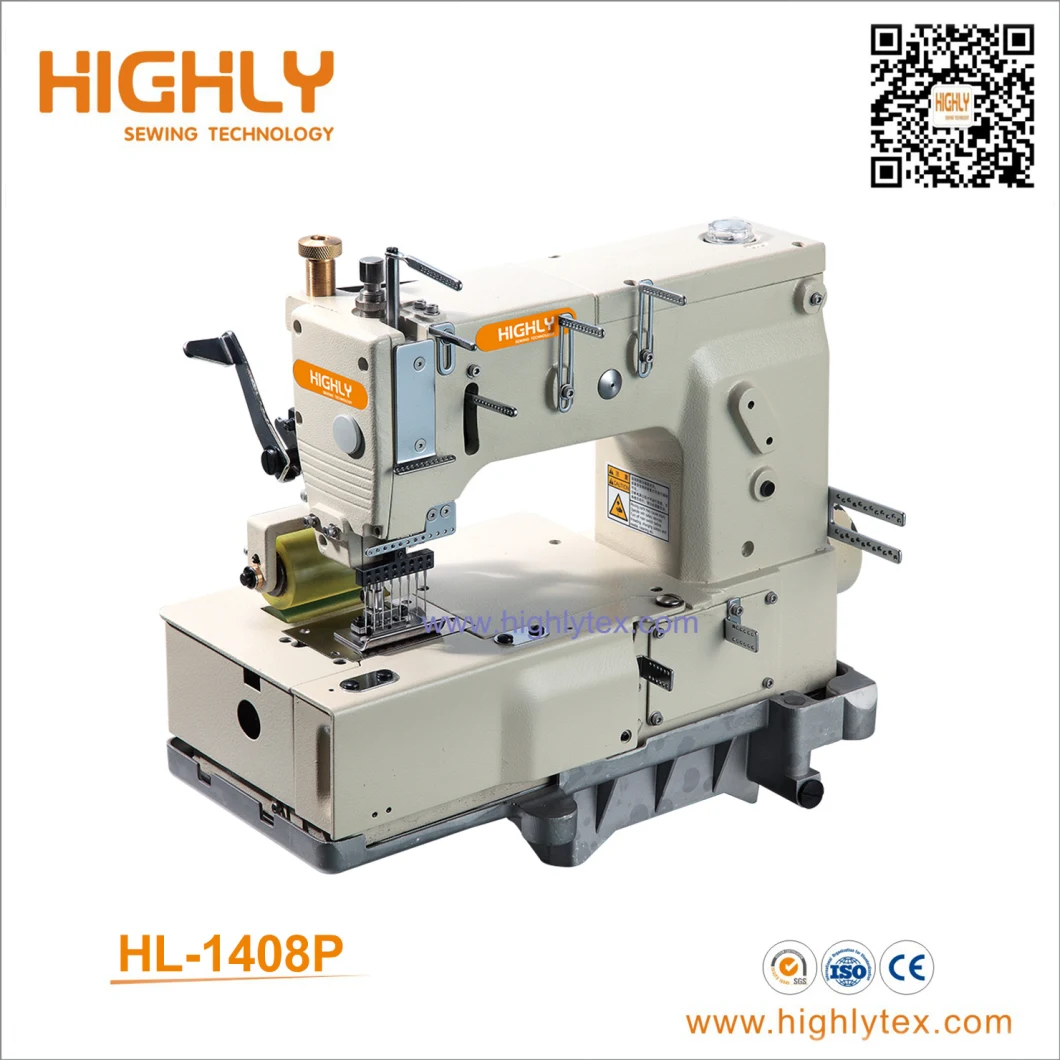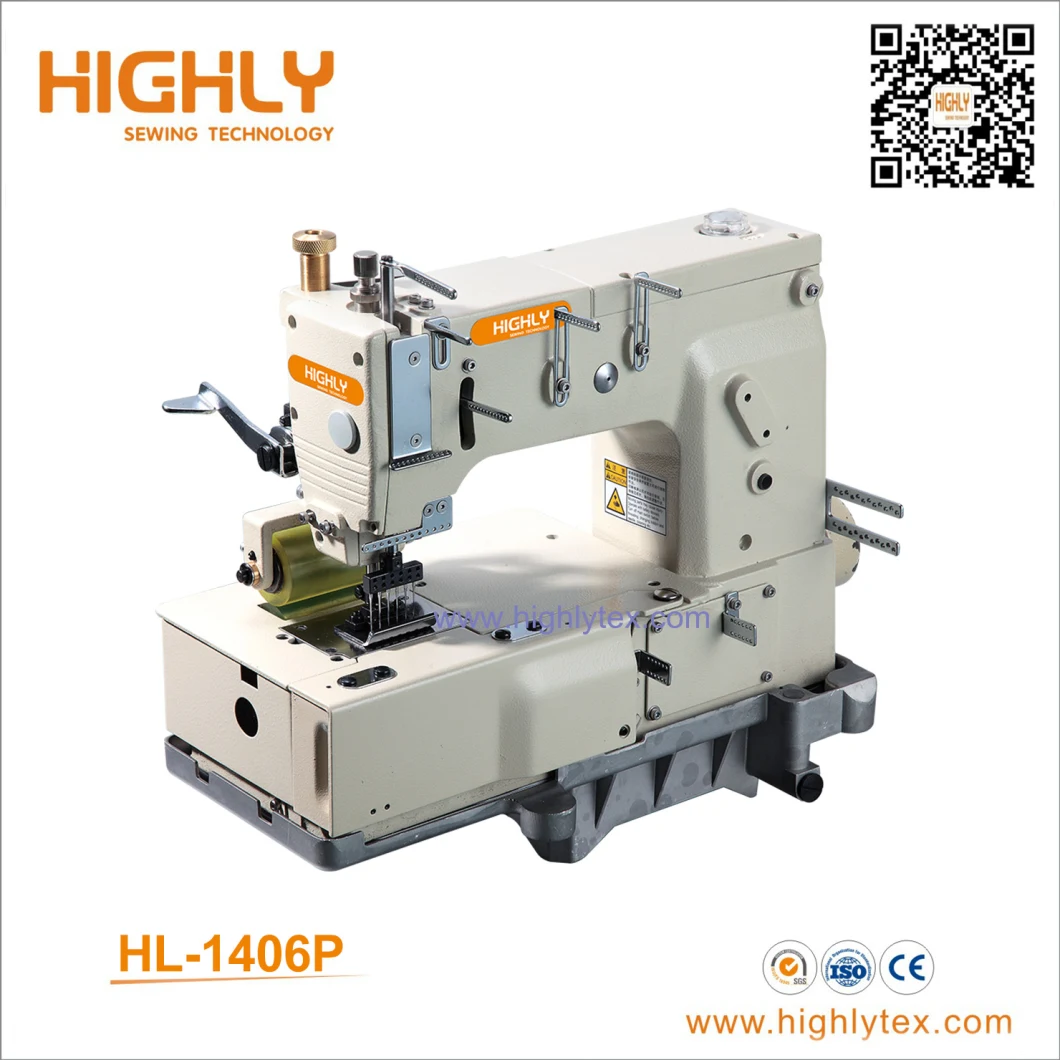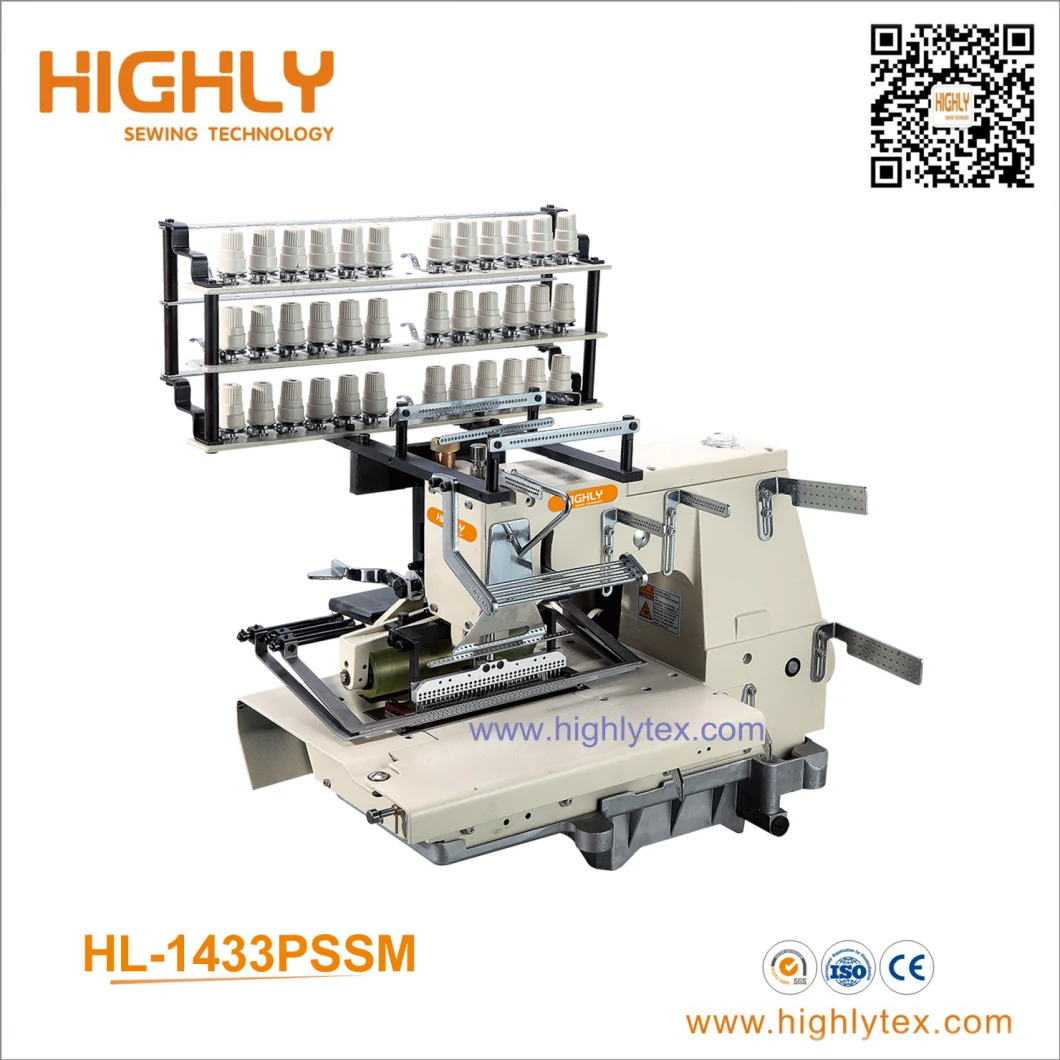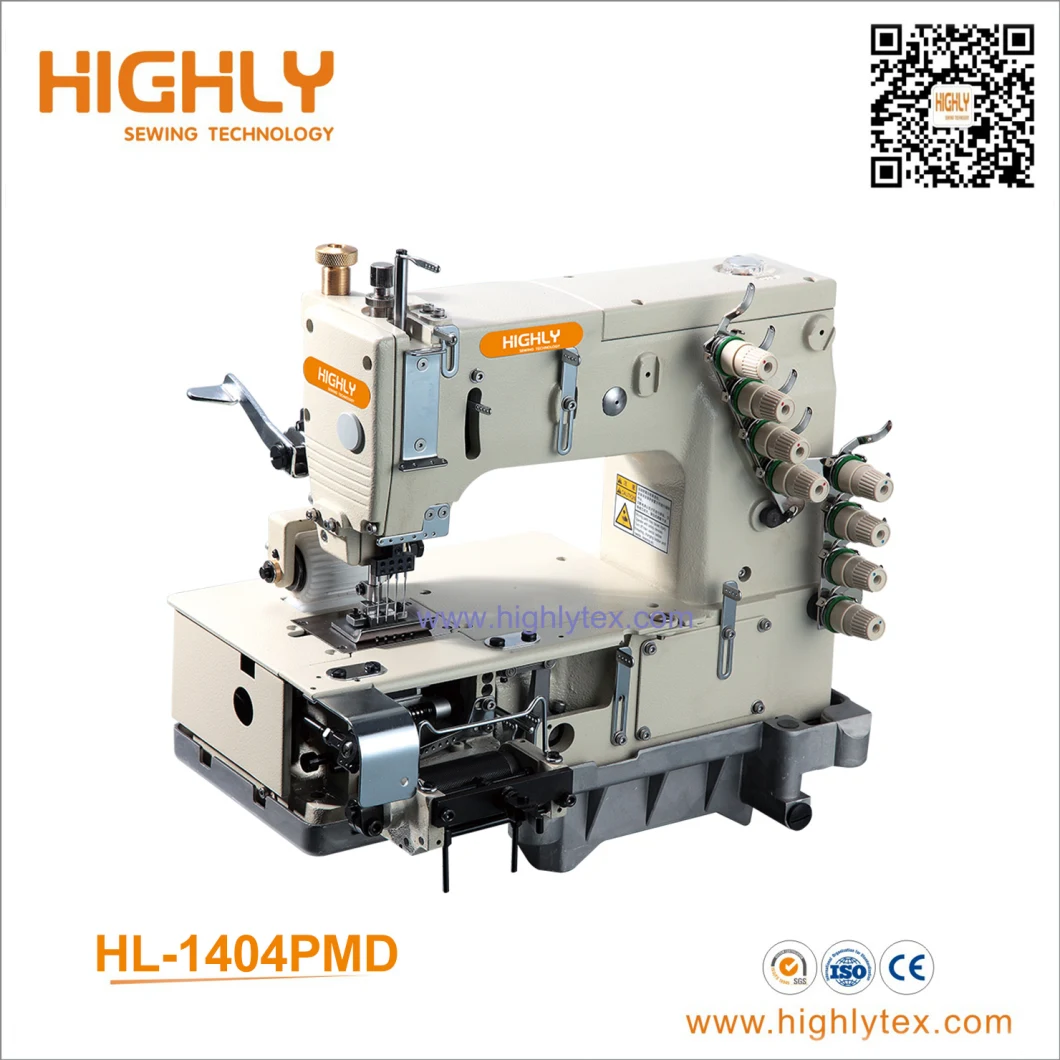 | | |
| --- | --- |
| Model | HL-1408PL |
| Stitch Formation | Chainstitch |
| Mechanical Type | Flat Bed |
| Max Sewing Thickness | 10mm |
| Max. sewing speed | 4500rpm |
| Stitch Length | 7-17mm |
| Type of Needle | UO113 #14 |
| Feed Mechanism | Multiple |
| Packing Size | 600*230*550mm |
| Weight | 44/48kgs |
HL-1408PL Eight Needle Flat Bed Double Chain Stitch Sewing Machine For Attaching Line Tapes
Smocking machine can be used on thin knitted fabrics and Georgette as well medium thick knitted fabrics and denim. As double chainstitch is formed, it is duitable for all kinds of products. By rsing general thread for upper and lower thread, plain or shirring smocking can be formed. Further, if you should use specified elactic thread for lower thread, elastic shirring smocking can be formend which is suitable for thin material. In order to make smocking patterns, cams to be provided in plenty are used. By combining these cams with ornamental thread, making varied patterns is practicable.
Characteristics
1. Complete auto oil supplying and filtering system to ensure maximum sewing speed up to 4500rpm.
2. Curve needle vertical movement structure.
3. External pull wheel device.
4. Key spare parts light and hard to ensure the durability.
5. Applicable to common sewing and sewing work of high quality clothes
1404P(four needles), 1406P(six needles), 1408P(eight needles),
1412P(twelve needles), 1413P(thirteen needles), 1433P(thirty needles)
HL-1400P series are a flat-bed, multi needles, double chains stitch machine. These series are multi-purpose machine for attaching elastic, attaching waistband, sewing the front of shirts, attaching line tapes, smocking and shirring etc... Which are ideal for underwear, sportswear, lady's clothes, interior decorated goods (curtains, tables-clothes etc…)

Option:
P:General machine with puller
PL:Machine for attaching line tapes
PSF: Machine for shirt fronting
PQ:Machine for shirring
PSM: Machine for smocking
PSSM:Machine for simultaneous shirring + smocking
PTV: Machine for tuck fabric seaming
WB:Machine for attaching waistbands
MR: Machine with ruffling device
ET: Looper thread elastic model
PMD-1:Metering device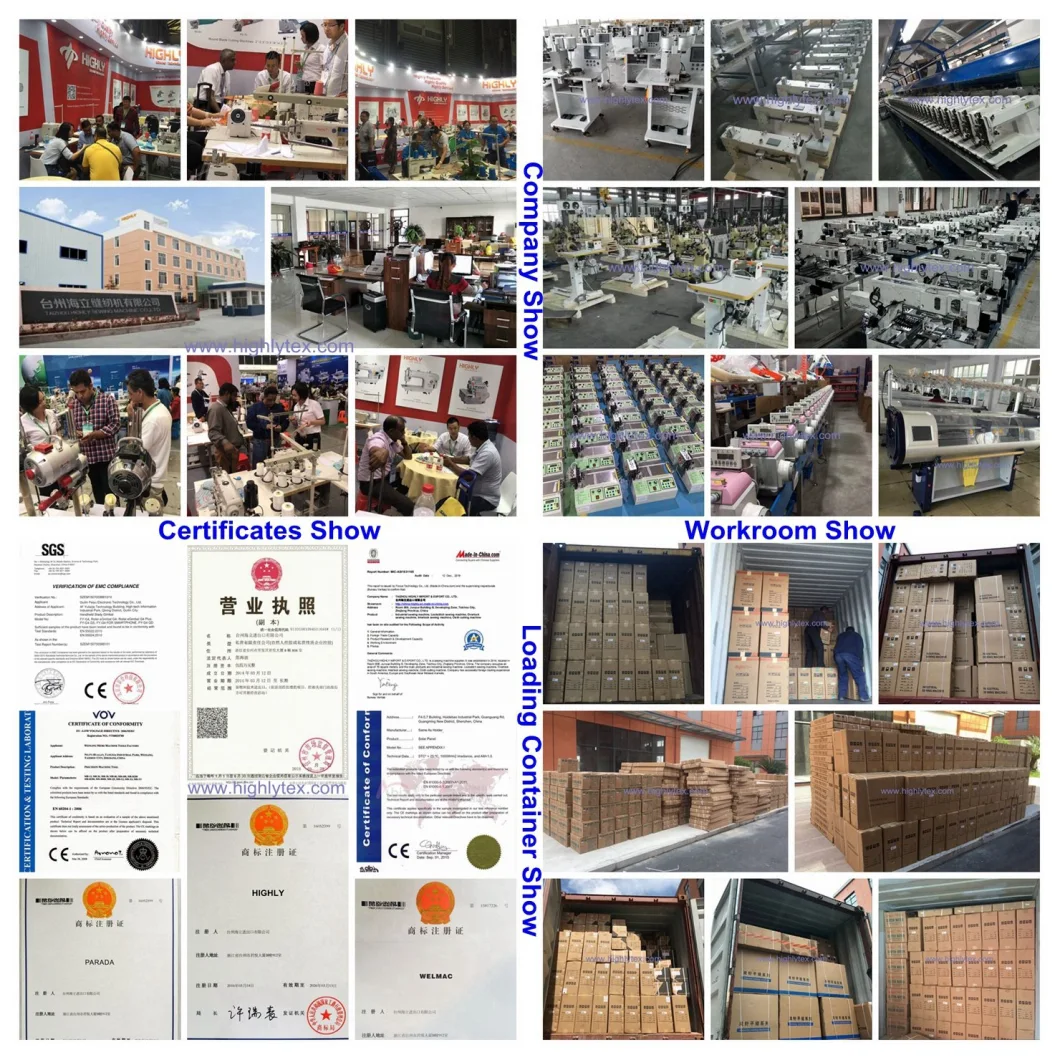 HIGHLY brand sewing machine company is a reliable leading manufacturer and distributor for all kinds of sewing machines. The products scope include basic industrial sewing machine, such as single & double needle lockstitch sewing machine, heavy duty sewing machine, overlock sewing machine, interlock sewing machine, multi needle sewing machine, button attaching and button holing sewing machine, bar tacking sewing machine, zigzag sewing machine, handstitch sewing machine, chainstitch and blindstitch sewing machine, household sewing machine and cutting equipments. Also includes some special type and high precision technology sewing machine, such as leather sewing machine, shoes sewing machine, sofa sewing machine, jumbo & woven bag sewing machine, suitcase & handbag sewing machine, sail & tent sewing machine, labor & rope net sewing machine, seat & cushion sewing machine, programmable pattern sewing machine, mattress sewing machine, embroidery sewing machine, carpet overedging sewing machine, and so on.
We are very especially professional on super heavy thick material sewing machines and long arm sewing machines. Our sewing machines are widely used in clothes, shoes, sofa, jumbo bag, woven bag, suitcase, handbag, carpets, tent, umbrellas, luggage, leather and knitting industry. The reliable quality and good after sale service gained a positive comments and reputation from our customers. The sales network has covered more than 80 countries and regions in the world, such as South & North America, Europe, Middle East, Asia, Africa, etc. The Company has obtained in succession the certification of ISO9000, SGS, and CE certificates.
With the principle of "Highly products, Highly quality, Highly service", we would like to continue researching more advanced and functional garments machinery for different markets and requirements, so that we develop stable business cooperation with all clients from all over the world on the base of mutual benefit. "Highly Products, Highly Quality, Highly Service", you choose, you believe. You are always welcome to cooperate with HIGHLY brand sewing machine company, including OEM cooperation with your brand. You are warmly welcome to be our agency with our registered brands Highly, PARADA, WELMAC, Mastman.